SD-01 - HONDA RC-30 Le Mans 2009 (Reservation are welcome)
Full transkit for TAMIYA 14057 - 1/12 Scale
Decoration : Le Mans 24 Hours 2009 (D.Dumain / Z.Henault / L.Cochet)
Resin parts, Clear resin parts, 0.2mm & 0.4mm photo-etched board, Thermoforming x2,
Decals x2, Laser Decals x2, Tamiya slick tires, Rear shock absorber spring,
Steel & aluminium parts, CD-Rom of pictures.
Colorfull instruction netbook (French or English).
Numbered & Limited to 75 pces ( 37 sold )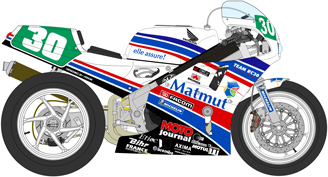 SD references are special productions, manufactured in small quantities.
They are meant for adult modelers, experienced with work of resin and photoetching





New molds must be done
Availability postponed to a later date
SD-02 - HRC DISPLAY STAND
Resin display stand to paint for 1/12 bike. Size : 220mm x 73mm x 5mm.
Download PDF - Pattern for back adhesive velvet
Numbered & Limited to 40 pces ( 10 sold )

SD-03 - HONDA NSR500 ELF 1989
Full transkit for HASEGAWA BK-4 - 1/12 Scale
Parts for early version with carbon brakes



Numbered & Limited to 50 pces ( 12 Sold )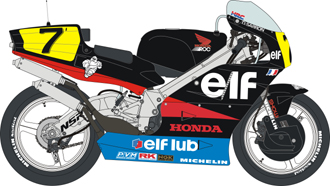 Numéroté & Limité à 50 ex ( 11 Vendus )
Numéroté & Limité à 50 ex ( 11 Vendus )